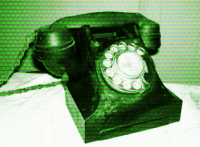 My long history with Qwest and US West before them has given me a mixed relationship with the company. I love them for having the foresight to share their DSL network with smaller entities instead of taking the monopolistic approach that Comcast has. I dislike them for some of the anti-competitive antics they have displayed over the past thirteen years.
Today gave me another reason to love Qwest. The fact that they told the NSA where to jump when they requested the call detail records of all their customers. Where this incredible display of spine sourced from, I can not explain, but it makes me feel a little bit better (15% to be exact) to be in a Qwest service region. Why the rest of our corporate overlords are so quick to bow to government monitoring is a better question.
The other display of technical bumbling to come out of Washington this week was the FCC insistence that all voice calls over the Internet be tappable. Does the FCC realize that its a simple matter to encrypt data including voice traffic? Do they know that their efforts to regulate and control law-abiding Americans inside the United States will go ignored by the majority of the planet?
The administration insists that it is only using this information against members of Al-Qaeda. In other words, only using wholesale privacy invasions for good, not evil. Individuals who trust this with blanket acceptance display a turnaround in attitude towards government. This must mean the government isn't smart enough to manage a social security pension, but it has an uncanny ability to divine who is an Al-Qaeda member. The President said recently that he hasn't heard any Democrat running for election stand up and call for an end to the Terrorist Surveillance Program (fondly known as "TSP" inside White House circles). News flash! If you know the person is a terrorist that you are surveilling, ARREST THEM.
Here's something to give conservatives pause when considering these government actions. Substitute "Internet monitoring" and "call detail record analysis" with "gun control" and you quickly see who is being punished here. Hint, it's not the people breaking the law. Any terrorist coordinating plans over the the public telephone network has got to have a lower IQ than shoebomber Richard Reid. Terrorists depend on cells that barely have any knowledge of each other, let alone organizing attacks with telephone trees. Monitoring of Americans has its place, but that place comes after examination by a court.
Mr. President, if what you said in a press conference is a gauntlet, then I'll take that challenge.
Vote for me and I'll do everything I can to end the unwarranted government spying on Americans.