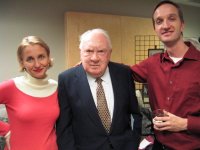 When I was eight years old, I was walking in downtown Salt Lake City with my mother. As we crossed a street with my hand in hers, she stopped to talk to a man who I didn't recognize. I don't remember what the conversation was, just that it was complimentary. As we left the stranger, my mother turned to me and said, "Do you know who that was?" I shook my head. "That was the governor of Utah."
Cal Rampton was my first contact with the political world. He remains an inspiration to me. In early 2005 when I was just finding my sea-legs as a candidate, I was introduced to a group of longtime Democrats who met regularly for lunch. Cal Rampton was among them and as they questioned me and told stories of their own, I found a well of courage to draw on. It was stunning to me to find out that Cal was a Bountiful boy too and that he had a friendship with my grandfather's brother.
I had to leave early to catch a flight to a Western Caucus meeting in Montana. Cal shook my hand and told me, "Whatever I can do to help, please let me know." Whether he realized it or not, Governor Rampton had already done enough. Along with my own efforts, I know that many other people have been inspired by Cal's tenacity and the legacy he gave Utah.
Governor Calvin L. Rampton passed away last night, Sunday September 16th. I will remember him always.